"His Only Son" is a new movie backed by Angel Studios, the company behind the popular "The Chosen" series. Here's what we know about the new Abraham movie, including its release date, the cast, where to watch it, and more.
Crowdfunded Film
"His Only Son" was financed through crowdfunding, as is common with Angel Studios projects. It has been claimed that this project is "the first-ever crowdfunded film to have a nationwide theatrical release." However, that is incorrect. Several crowdfunded films have had nationwide theatrical releases long before this new Abraham movie. Some of those films include "Veronica Mars," Spike Lee's "Da Sweet Blood of Jesus," and the psychological horror film "The Babadook."
What the Story Is About
"His Only Son" is a biblical movie that takes a look at the story of Abraham being called to sacrifice his son, Isaac. In Genesis 22:2, God tells Abraham, "Take your son, your only son, whom you love—Isaac—and go to the region of Moriah. Sacrifice him there as a burnt offering on a mountain I will show you."
The Bible doesn't reveal what Abraham's inner thoughts were about being told to kill his child. But any parent would struggle with such a call. So it is safe to assume that Abraham must have struggled somewhat with God telling him to sacrifice the child he miraculously fathered.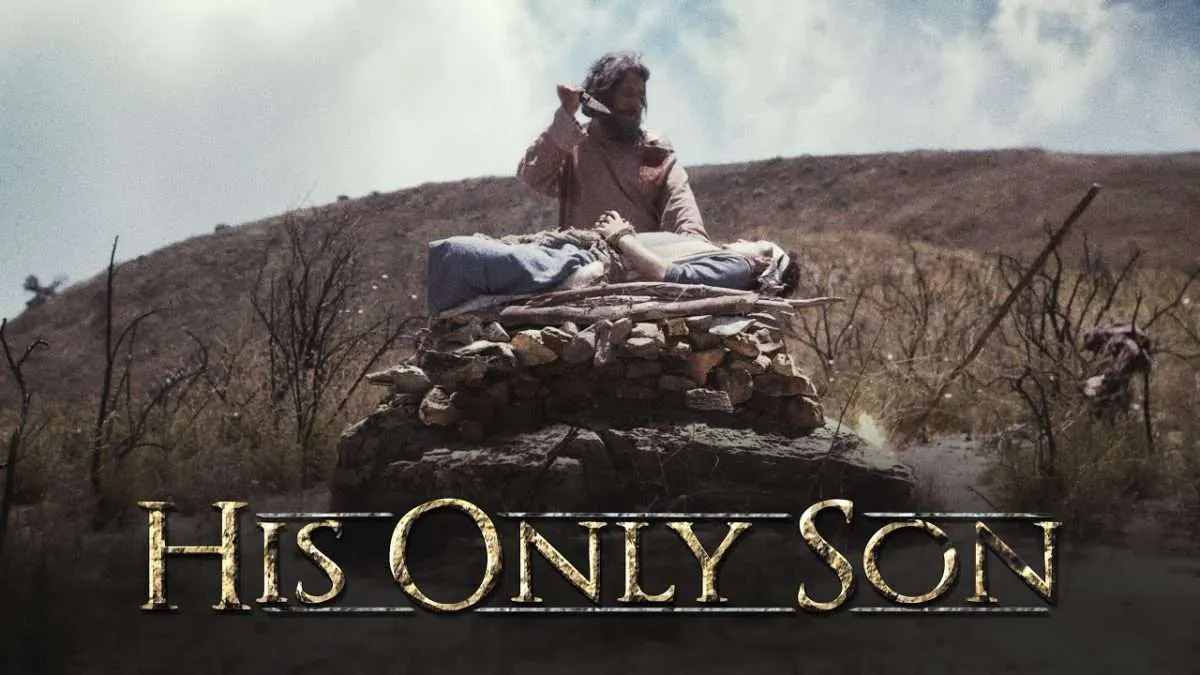 Angel Studios states that the movie:
"…recounts one of the most controversial moments in the Old Testament—when Abraham was commanded by God to sacrifice his son Isaac on the mountain of Moriah. While traveling to the place of the sacrifice, alongside Isaac and two servants, Abraham is flooded with vivid memories from the years he and Sarah spent longing for the son they were promised—the son he must now lay upon the altar."
Release Date and Where / How to Watch
The new Abraham movie comes out in theaters on Thursday, March 30. "His Only Son" is playing at the movies all over the U.S. through April 12. That date is well past the Christian holiday of Good Friday (April 7). You can buy your tickets now at Fandango's website.
His Only Son Cast and Trailer
The main cast include Nicolas Mouawad as Abraham, Sara Seyed as Sarah, and Daniel da Silva as The Lord. Ironically, da Silva has acted as Jesus in two other projects — "Christ Tempted" and "Road to Emmaus." Meanwhile Mouawad portrayed King Solomon in the movie "Three Thousand Years of Longing." Actor Edaan Moskowitz plays Abraham and Sarah's child Isaac. It doesn't appear that Seyed and Moskowitz have previously taken on roles based on biblical figures.
David Helling wrote and directed the movie. Helling has previously done several short Bible-inspired films.
Watch the trailer for "His Only Son" from Angel Studios.
Was It Really His Only Son?
The movie is titled "His Only Son," which suggests that Abraham had only one son. However, the Old Testament account reveals the patriarch fathered two sons. Before Sarah gave birth to Isaac, Abraham fathered a child with his slave Hagar. God told an abused Hagar to name the boy child Ishmael, according to Genesis 16. However, Isaac was the only child God promised to come from both Abraham and Sarah.
The miracle in their case involved the fact that both believed they were incapable of having children. God tested their faith, allowing Abraham to impregnate Sarah. Abraham was 100 years old and Sarah 90 when Isaac was born.
Though God sent Abraham to sacrifice his son at Mount Moriah, he eventually provided a lamb. Some see this as a foreshadowing of God choosing to sacrifice His Only Begotten Son, Jesus, at Golgotha to save humanity.