By Joseph P. Laycock
On April 14, 2023, Sony Pictures released "The Pope's Exorcist," a horror film inspired by the life of the Rev. Gabriele Amorth. Amorth served as the exorcist for the Diocese of Rome from 1986 until his death in 2016 at the age of 91.
Catholic exorcism was once extremely rare in the United States and much of Europe, and Amorth played a major role in normalizing the practice. In 1990, he founded the International Association of Exorcists, or the IAE, a Catholic group that advocates for the practice of exorcism and trains new exorcists.
This group has been critical of the way Amorth and his ministry are portrayed in the film. In March, the IAE released a statement condemning the film as "splatter horror." More importantly, the IAE warned that the film sensationalized exorcism and failed to convey the suffering of those in need of this ritual. However, the Rev. Edward Siebert, one of the film's executive producers, defended it by pointing out that it depicted a priest in a positive light.
Amorth was a polarizing figure who had a complicated relationship with horror movies. Having researched the history of exorcism, I find it appropriate that a horror film about his life is drawing controversy.
Amorth's career as an exorcist
Amorth sometimes boasted of having performed as many as 160,000 exorcisms. He also attracted controversy for saying yoga and Harry Potter books can cause demonic possession. In his autobiography, "An Exorcist Tells His Story," Amorth wrote, "It is thanks to movies that we find a renewed interest in exorcisms." In other words, exorcism made a comeback because horror movies helped spark public demand for the ritual.
On this point, Amorth is in agreement with religion scholar Michael Cuneo, who argued that "The Exorcist" is largely responsible for revitalizing exorcism. When that film came out in 1973, requests for exorcisms surged. The church, which had regarded exorcism as a source of embarrassment, lacked the experience and training to accommodate this demand. But church authorities have increasingly warmed to exorcism, viewing it as an asset rather than a liability.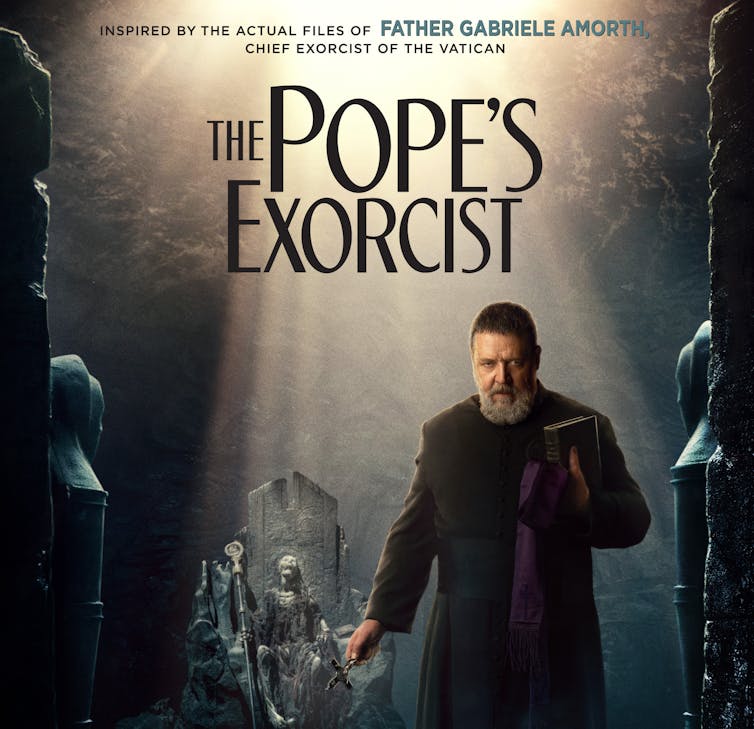 Unsurprisingly, Amorth named "The Exorcist" as his favorite film, commenting, "Of course, the special effects are exaggerated. But it is a good film, and substantially exact, based on a respectable novel which mirrored a true story."⁠ Amorth became an exorcist a decade after the film, and his career evolved alongside horror films. He introduced the 2011 horror film "The Rite" when it premiered at a film festival in Umbria. Like "The Pope's Exorcist," "The Rite" is a Catholic horror film inspired by the life of a real priest, Gary Thomas, who traveled to Rome to study exorcism.
"The Exorcist" was directed by Oscar winner William Friedkin. A year after Amorth's death, Friedkin unveiled his 2017 documentary, "The Devil and Father Amorth," showing Amorth performing an actual exorcism.
Variety noted that Catholic exorcism and horror films now seemed intertwined "like a loop."
There's no such thing as bad press
"The Pope's Exorcist" takes great liberties with Amorth's story, earning comparisons to the "Indiana Jones" franchise and "The DaVinci Code." But "The Exorcist" was also polarizing in its day, with some Catholics praising it as a "deeply spiritual film" and others comparing it to pornography.
The Rev. Vincent Lampert, an IAE member, criticized "The Pope's Exorcist" for focusing more on Satan than Amorth and his ministry. But condemnation from the IAE has ironically boosted media coverage of "The Pope's Exorcist" and has likely compelled more people to see the film. Opening weekend sales were so good that Sony Pictures has announced a sequel is already in development.
For now, the complicated synergy between horror films and actual exorcists shows no sign of abating.

Editor's note: This article is republished from The Conversation under a Creative Commons license.
---
Joseph P. Laycock, Associate Professor of Religious Studies, Texas State University